Welcome to the home page of International Association of Fire Fighters Local 3249, a labor organization representing paid professional firefighters, emergency medical, rescue and other related service members. We encourage you to periodically review this site and its contents in order to remain current on all issues facing Camden County's First Responders, those charged with the duty to protect and serve the citizens of Camden County, New Jersey and beyond whenever fires or other emergencies occur and people need help.
Comments or Suggestions, Please Feel Free to E-Mail the Webmaster at: webmaster@iafflocal3249.org
---
---
Make Your Voice Heard
Contact Your State & Federal Legislators Using These Links


---

**Note: Acrobat Reader required
Click Here: Learn about the benefit of IAFF Representation


What's New at Local 3249:
Phil Murphy Sworn in, Replaces Chris Christie as N.J. Governor
You have a new governor, New Jersey
Phil Murphy, a Democrat entering elected office for the first time, was sworn in as the Garden State's 56th governor just before noon Tuesday during a ceremony at the Patriots Theater at the War Memorial in Trenton.
Murphy, a former U.S. ambassador to Germany and multimillionaire former Wall Street executive, succeeded Chris Christie, a Republican who left office after eight years.
Surrounded by his family, Murphy -- a 60-year-old Middletown resident -- was sworn in by state Supreme Court Chief Justice Stuart Rabner in the midst of a festive ceremony.
Murphy put his hand on the same bible that President John F. Kennedy -- his political hero and fellow Massachusetts native -- used to be sworn in 57 years ago.
In a 22-minute inaugural address that brimmed with optimism, Murphy echoed his campaign slogan and consistently vowed "a fairer, stronger New Jersey."
---
Chris Christie's Final Acts: Bills He Made Law and Killed, from Drones to Circus Animals
A pension sweetner for a select few
Former Camden Mayor Dana Redd — one of Christie's Democratic allies — and some other New Jersey elected officials will now draw a larger pension under legislation (S3620) that was fast-tracked through the state Legislature in the final weeks of Christie's tenue.
The new law allows some politicians to re-enroll in the state's Public Employees' Retirement System after being kicked out because they switched positions.
Lawmakers have not revealed exactly how many people it would benefit, but the most notable is Redd, who is allies with some of the state's top Democrats and worked closely with Christie on initiatives to improve Camden.
Christie signed the bill only days after Redd — who left office Jan. 1 — was hired as CEO of the Rowan University/Rutgers-Camden Board of Governors, a post that pays an annual salary of $275,000. The new law could allow her to triple her pension.
---
We Morn the Loss of Matthew LeTourneau, IAFF 4th District Local 22, Philadelphia, PA.

Our Thoughts and Prayers are with the Family, Friends, and Co-Workers of Brother LeTourneau.

Expressions of sympathy or condolences for the family of the Local can be sent to IAFF Local 22, 415 N. 5th Street, Philadelphia, PA 19123-4001.
---
SAFER and AFG Grants to Be Reauthorized
In its very last act of legislative business for the year, the U.S. Senate voted unanimously to pass legislation to reauthorize the Assistance to Firefighters (AFG) and Staffing for Adequate Fire and Emergency Response (SAFER) grant programs. The bill authorizes the two programs at $750 million each – making $1.5 billion available each year for staffing, training and equipment for the departments where our members work over the next six years.
The bill now goes to the president for his signature, and he is expected to sign it, ending a lengthy saga whereby the two programs were threatened with elimination.
The IAFF has been working with its friends in Congress for nearly two years to reauthorize AFG and SAFER, which were due to expire on January 2, 2018. Senators John McCain (R-AZ) and Jon Tester (D-MT) led the effort on our behalf in the Senate. In the House, at the very last minute, Representative Barbara Comstock (R-VA) authored a sister bill to reauthorize AFG and SAFER, but included a new seven-year sunset clause. This is the bill recently passed by the Senate and due to be signed into law.
AFG and SAFER are critical resources for fire departments in every state. We are proud to have been able to win reauthorization for both programs and will work in the coming years to pull out the sunset provision.
---
Local 3249 Members Assist With 2017 Annual Nemours Toy Drive
---
Kidde Recalls Combination Smoke/CO Alarms Due to Alarm Failure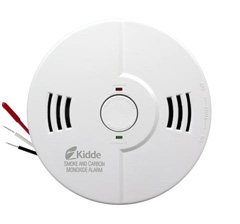 Description:
This recall involves Kidde NightHawk talking combo smoke/CO alarm with model number KN-COSM-IB and manufacture dates between June 1, 2004 and December 31, 2010. The alarms are hard-wired into a home's electric power. The unit has a compartment on the back for the installation of a replaceable 9V backup battery. The alarm is white, round and measures about 5 to 6 inches in diameter. "Kidde" is engraved on the front of the alarm. "Kidde," the model number and manufacture dates are printed on a label on the back on the alarm.
Remedy:
Consumers should immediately stop using the recalled alarms and contact Kidde directly for a free replacement alarm based on date of manufacture or a discount on a new alarm.
Incidents/Injuries:
Kidde has received eight reports of incidents with the recalled alarms. No injuries have been reported.
Sold At:
Electrical distributors and home centers nationwide and online at Amazon.com from June 2004 through December 2010 for between $40 and $65.
Importer(s):
Walter Kidde Portable Equipment Inc., of Mebane, N.C.
---
Kidde Recalls Fire Extinguishers with Plastic Handles Due to Failure to Discharge and Nozzle Detachment: One Death Reported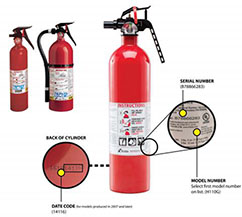 This recall involves two styles of Kidde fire extinguishers: plastic handle fire extinguishers and push-button Pindicator fire extinguishers.
Plastic handle fire extinguishers: The recall involves 134 models of Kidde fire extinguishers manufactured between January 1, 1973 and August 15, 2017, including models that were previously recalled in March 2009 and February 2015. The extinguishers were sold in red, white and silver, and are either ABC- or BC-rated. The model number is printed on the fire extinguisher label. For units produced in 2007 and beyond, the date of manufacture is a 10-digit date code printed on the side of the cylinder, near the bottom. Digits five through nine represent the day and year of manufacture in DDDYY format. Date codes for recalled models manufactured from January 2, 2012 through August 15, 2017 are 00212 through 22717. For units produced before 2007, a date code is not printed on the fire extinguisher.
---

---

IMPORTANT INFORMATION FOR MEMBERS IN THE STATE HEALTH BENEFITS PLAN OF NEW JERSEY (SHBP)
No Change in Rates for Active Members in 2018; Retiree Rates To Go Down
Effective January 1, 2018 there will be no increase in premiums for any active state or local government workers that are in the State Health Benefit Plan (SHBP).
Premium rates for local government early retirees will go down by 2.3%; rates for local government Medicare retirees will go down 6.2%. Premium rates for state early retirees will fall 4.4% and the rates for Medicare retirees go down 6.3%.
---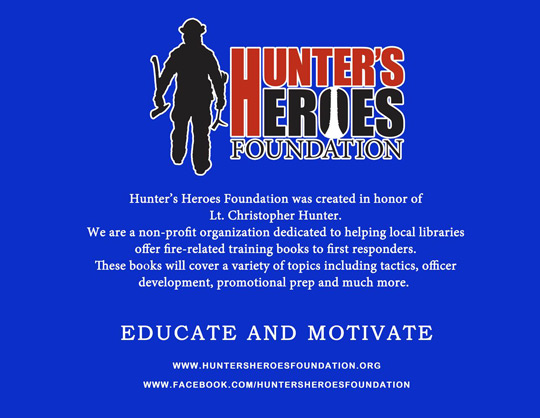 ---
Are Firefighters More at Risk of Developing Dementia?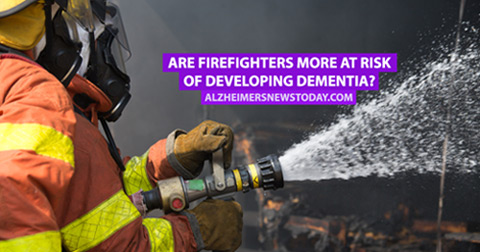 Over the years, researchers have focused on the connection between firefighting and various diseases, including cancer and heart disease, but could firefighters also be more at risk of developing dementia and Alzheimer's disease?
According to an article on firechief.com, although there has yet to be any official studies into the link between firefighting and dementia, a 2015 article highlights the risks of exposure to certain toxins and their link to dementia. These toxins are familiar to most firefighters and they will have undoubtedly come into contact with them at some point in their careers.
---
DISPATCH Special Edition: IAFF Center of Excellence
The grand opening of the IAFF Center of Excellence for Behavioral Health Treatment and Recovery - the first facility of its kind exclusively for IAFF members - was held March 5, 2017. www.iaffrecoverycenter.com
---
---
New NFPA 1710 Explainer Video
NFPA 1710 is the internationally accepted standard on minimum crew size and operational staffing for career fire departments.
---

The IAFF, along with the International Association of Fire Chiefs, Metropolitan Fire Chiefs, the Congressional Fire Services Institute and the International Fire Service Training Association, have updated and released the 3rd Edition of the Fire-Based EMS Toolkit.
Updates to the online toolkit include up-to-date information on Fire-Based Community Healthcare Providers (FBCHP) - or "communityparamedicine" - and a new section on responding to violence, including resources for active shooter response.
---
From the New Jersey AFL-CIO...

Christie Tells It Like He Wants It to Be
Gov. Christie didn't let facts get in the way during this month's State-of-the-State speech. While he devoted 11-and-a-half minutes to union bashing, the New Jersey AFL-CIO deconstructed the lies and "Tell It Like It Really Is" in just over a minute.
---
Protection Through Prevention:
Your Firefighters Teach Fire Prevention Year Round
Firefighters from Gloucester Township's Chews Landing Fire Station recently visited the summer camp at the Loring Flemming School.
The kids learned what firefighters look like when dressed in protective turnout gear and a breathing apparatus to search a burning building for people who may be trapped. This can be a lifesaving lesson for a child trapped in a fire. Children must know that the firefighter is a friend coming to rescue them, not a monster coming out of the smoke from the fire.
---
First Responder Guide to Burn Injury Assessment and Treatment
The International Association of Fire Fighters Charitable Foundation Burn Fund has partnered with the American Burn Association to develop this manual to provide first responders (Fire Fighters and emergency medical providers) with the basic training and knowledge necessary to effectively assist those who have suffered a burn injury or cold exposure,
This manual provides a comprehensive, general overview of burn and trauma injuries. It takes readers through each step of a response, providing them with simple explanations and classifications of injuries, depictions of the physiological effect these injuries have on the body, initial injury assessment and on-scene management guidelines, as well as basic treatments
to administer during the first minutes of a response.
The ultimate goal of this project is to help ensure that all first responders are more fully capable of assessing and managing a burn injury. When first responders are prepared, those who have sustained a burn injury are provided with the best possible treatment, and the chances for patient
survival and recovery are greatly increased.
Production of this manual was funded through a Fire Prevention and Safety Grant awarded through the Assistance to Firefighters Grant Program. Special thanks are given to the Office of Grants and Training at the U.S Department of Homeland Security. To receive your copy/copies free of charge email Tom Flamm at tflamm@iaff.org or call 202-824-8620.
---

---

---

Important Information on Supreme Court Health Care Decision
As many of you are aware, recently the Supreme Court handed down another landmark decision addressing the president's controversial health care law known as the Affordable Care Act (ACA). In the case of King v. Burwell, the court was charged with determining if individuals purchasing health care through the federal exchange were permitted to receive tax subsidies. Since the court's ruling, we have received numerous questions regarding the impact of the ruling on our members and their health plans. Generally speaking, there is no immediate effect on IAFF members or their plans. To help our IAFF members to better understand the ruling, we have prepared the following supplemental materials:
Regardless how the Supreme Court ruled, we have a major concern over the portion of the ACA which imposes a 40 percent excise tax on high-cost health plans beginning in 2018. The IAFF has taken a leading role in a coalition of labor and corporate interests in trying to repeal the excise tax. Current legislation (H.R. 2050) to repeal the tax has been introduced by Representative Joe Courtney (D-CT), a bipartisan bill with more than115 co-sponsors. We will continue our fight to repeal this provision of the ACA and work to ensure that the benefits our members and their families enjoy will not be diminished. I hope the information proves helpful. As always, I appreciate your hard work and leadership.
Fraternally,
Harold A. Schaitberger
General President
---
The Luxe Life of Chris Christie, With a Little Help From His 'Friends'
Feb 3, 2015 - It's the loophole through which New Jersey Gov. Chris Christie has been flying on private jets.
Christie's personal travel habits, detailed in a New York Times article include a preference for Cessna Citation X flights, Four Seasons stays and champagne toasts, are all legally consistent with his state's code of conduct for governors – as long as everything is paid for by friends.
"The governor may accept gifts, favors, services, gratuities, meals, lodging or travel expenses from relatives or personal friends that are paid for with personal funds," the code reads.
Lately, those friends include King Abdullah of Jordan, Dallas Cowboys owner Jerry Jones and Republican superdonor Sheldon Adelson – all with big pockets and big toys, like the private jet Adelson had him fly with his family on during a 2012 trip to Israel, at the same time Adelson was trying to defeat a measure to legalize online gambling in New Jersey (Christie later signed the bill anyway).
Christie also added a provision to the state's financial disclosure laws in a 2010 executive order that expressly permits him to accept travel and related expenses from foreign governments.
---
What Chris Christie Didn't Tell N.J. About Pension Payments: Opinion
When Gov. Chris Christie praised himself during the State of the State address for making the largest contributions to the State pension funds of any governor in New Jersey history, that statement was true, but not accurate.
While Gov. Christie has contributed $2.9 billion (if he makes the reduced $681 million payment for FY2015), what he fails to be clear about is that he will have skipped $14.9 billion in required pension payments during the past five years as Governor, according to his own Pension & Health Benefit Study Commission's Status Report.
Former Gov. Corzine made $2.1 billion in pension payments while skipping an additional $6.4 billion required from 2007 to 2010.
In fact, Gov. Christie's $14.9 billion skipped pension payments eclipses the $12.8 billion combined missed payments of his five predecessors over a 15-year period from 1996 to 2010. That was a pretty important fact that he omitted from his State of the State address.
For the last three years Gov. Christie has traveled the country congratulating himself for his 2011 bipartisan pension reforms, including prominently mentioning it during his keynote address for Mitt Romney at the 2012 Republican National Convention. He then failed to follow through on making the required payments.
---
Chris Christie's Jersey Nightmare: Why His State Hasn't Touched The Economic Recovery
Why do half of his state's residents want to leave? Strip away his antics, and there's a devastating economic story
Late in October of 2009, New Jersey gubernatorial candidate Chris Christie used the Ridgewood Moving Company in Mahwah to stage a campaign event headlined by former Mayor Rudolph Giuliani. The cavernous warehouse was packed floor to ceiling with shrink wrapped pallets holding the possessions of dozens of families leaving New Jersey. It vividly symbolized the thousands of Jersey households that made the same decision that year to pull up stakes in hopes of a brighter future anywhere else.
The site was a compelling backdrop for Christie's core campaign message. He was the candidate most likely to staunch the trend that had become so pronounced since the state's congressional delegation shrank from 15 seats in the '70s to 12. In his debating the incumbent Jon Corzine, he used the well documented Jersey diaspora, which separates grandparents from their grandchildren and parents from their children, like a rhetorical two-by-four.
"People are leaving the state in droves, businesses are leaving this state in droves and taking their jobs with them. That's why we have the worst unemployment rate in 33 years," Christie charged.
---
The State Of Our State: Neglected
Governor Chris Christie delivered his sixth State of the State address on January 15, 2015, and for anyone who was listening, it struck the tone of someone who is more interested in running for president than governing New Jersey.

The tone of the speech underlined a simple fact. Under Governor Christie, New Jersey has been neglected.

Residents know it. Legislators on both sides of the aisle know it. Reporters who cover the state know it.

And Governor Christie knows it.
---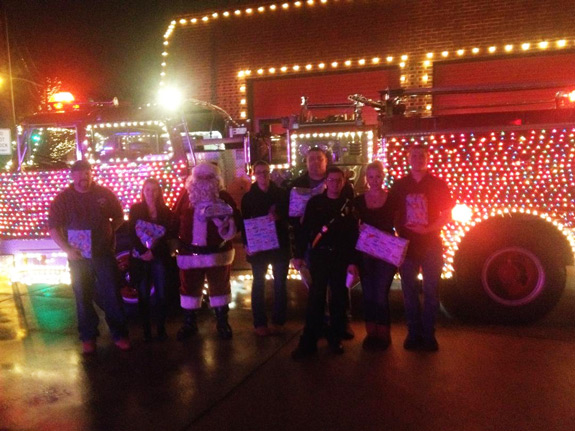 December 24, 2014: Off duty Collingswood Firefighters, their families and friends spent their Christmas Eve helping Santa Claus deliver Christmas presents to families in need.
---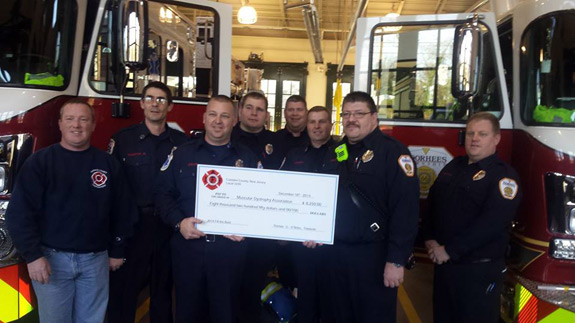 December 18, 2014: Thank you to all who supported Local 3249's 2014 Fill the Boot Campaign for the benefit of families impacted by Muscular Dystrophy. Local 3249 presented the Muscular Dystrophy Association with a check for $8,250.00 at Voorhees Fire Station 662.
---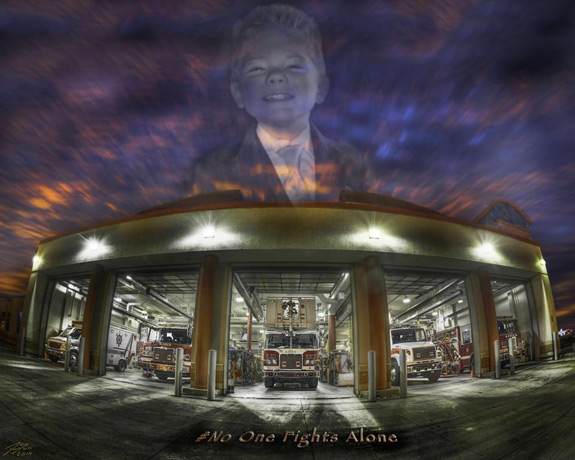 Please hold the family of 7 year old Honorary Firefighter Aiden Riebel (Washington Township Fire Department, Gloucester County, New Jersey) in your thoughts.
---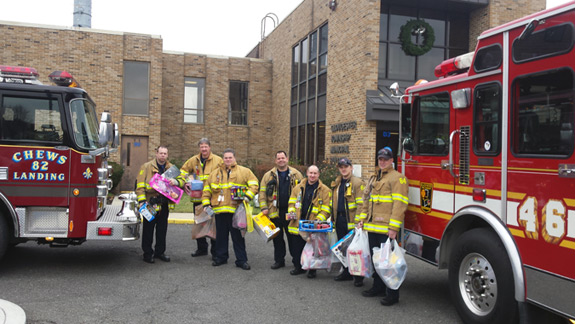 December 15, 2014: Thank you to all who supported Local 3249's 2014 Toys 4 Tots campaign. Gloucester Township Engine 82 and Rescue 84 members delivered a shipment of toys to the township's municipal building today in support of Mayor Mayer's annual toy drive. More toys will be delivered to support the Collingswood Fire Department's annual toy drive later this week.
---
N.J. Pensions: All Payers Treated Equally?
Your local tax collector is a payment point for a number of other entities and obligations. A very large portion of the property taxes collected are sent to fulfill County and School obligations. In that list of payees is the pension payment due to the local pension systems to meet the obligation of the local employment contracts. The State of NJ has similar obligations for its employees.
You as a taxpayer have paid your tax bill and we as local government entities have subsequently paid the local pension obligations. So where is the problem?
If it is not already, it should be common knowledge that there are four significant pension systems (excluding teachers) Local PERS, State PERS (Public Employees), Local PFRS, State PFRS (Police and Fire). The two local systems are actuarially funded at greater than 70% while the two state systems are funded at 50% or less. The reasons for this have been well documented. Local employers and employees have been required by state law to make every payment required of them. The local payments are required in every annual adopted budget and the employees make them through payroll deductions. Every One. Without Fail.
On the other hand the State of NJ has excused itself from significant contributions over the years by simply not including the payments in the state budget. In more recent years they have budgeted for the obligation but simply did not pay for it while using the money for something else. Have you tried this tactic with your mortgage company and been successful? What would happen if your employer tomorrow decided to stop paying their contractually obligated match to your 401K?
---
Local 3249 congratulates Collingswood Firefighters Paul Bonamassa and Kyle Jarozynski upon the successful completion of their one year probationary periods. Probationary firefighters are required to undergo an extensive training program and demonstrate competency in fire suppression, emergency medical service and other emergency response work.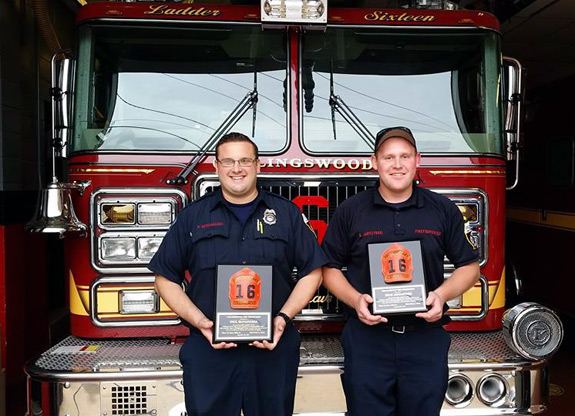 ---
Fire Protection Through Fire Prevention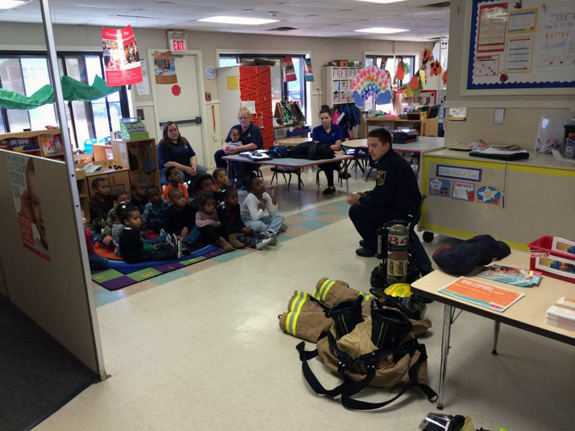 Local 3249 Vice President and Gloucester Township Fire District 4 Firefighter Frank Reiss is pictured giving a fire prevention talk to children at the Kindercare in Blackwood's Cherrywood section.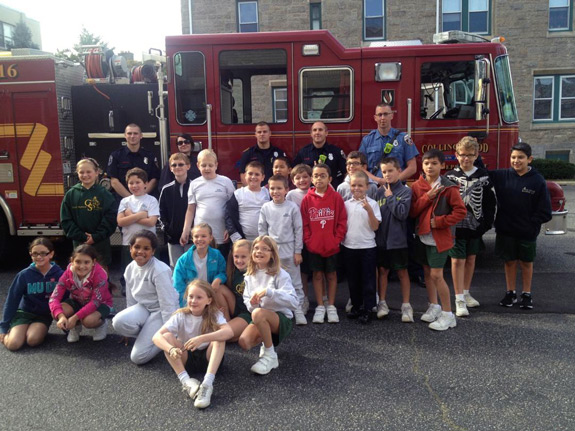 Squad 16 and BLS Ambulance 16 members are pictured with children from the Good Shepard School in Collingswood during their annual fire prevention week activities.
---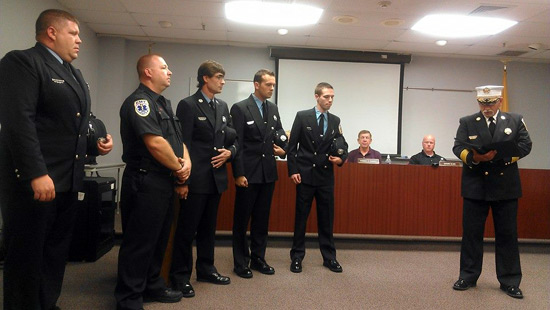 Camden County, New Jersey Local 3249 members recognized: From left to right, Firefighter Jason Shafer, Firefighter Timothy Zeck, Lieutenant Charles Knighton, Firefighter George Read and Firefighter George Bundick were recognized at the Voorhees Fire District's September 18, 2014 Board of Fire Commissioners meeting for their life saving actions after responding to a recent emergency involving a teenage boy struck by a vehicle.
---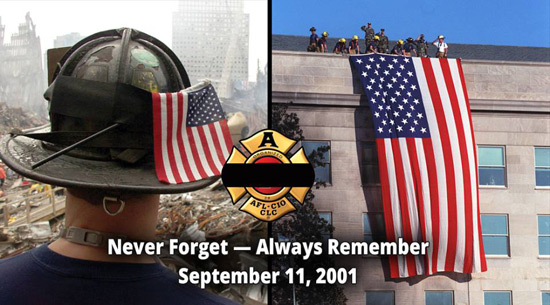 ---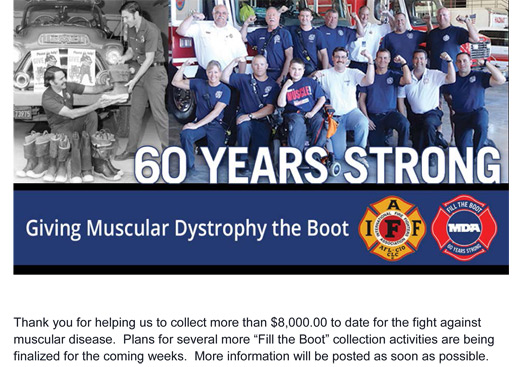 ---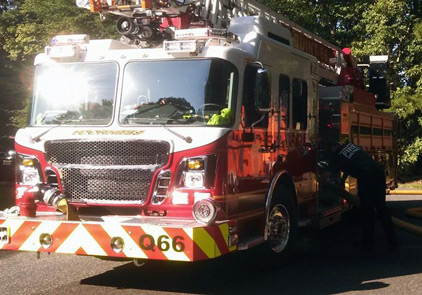 As part of their regular training regiment, the Voorhees Fire District's paid professional Firefighters and Fire Officers complete initial arrival drills or "5 Minute Drills" monthly. They practice laying in from a hydrant, establishing their water supply and placing the first fire attack hose line in operation. All of this is accomplished within 5 minutes of arriving at a fire.
---
What Judges Know: The Fault for Underfunded Pensions Lies With Politicians, Not Workers
Advocates of gutting public pensions are running into the same wall over and over again.
From California to Illinois to New Jersey and beyond, pension gutting efforts are being overturned by judges who recognize that breaking promises to workers isn't just regrettable, it's illegal. Pension opponents castigate the courts as the enemy while conveniently ignoring why legal protections exist in the first place—to protect public employees from politicians who spent years playing politics with their retirement savings.
For decades, elected officials across the country skipped pension payments, often while funneling money into pet projects. Until the Great Recession, politicians were able to hide these mistakes behind a booming economy. But by 2008 the economy had plummeted, shining the spotlight on this financial malfeasance.
---
Chris Christie: From Bridgegate to Blamegate
News and Notes From New Jersey's Reckless Leader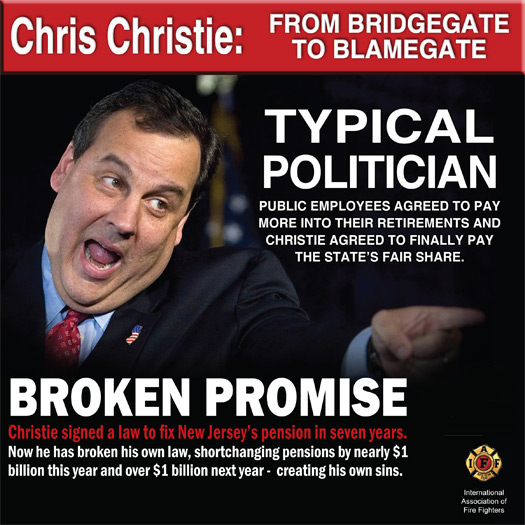 ---
IAFF Calls Out Looters Of Public Pensions
Across America, state budgets are being balanced on the backs of current and former public employees by breaking commitments to fund their defined-benefit retirement plans. Gov. Chris Christie (R-NJ) is the latest to go this route, recently warning his state's fire fighters, police officers, teachers and other public employees that he'll propose skipping a couple (more) yearly installments against the state's pension liability due to an unexpected revenue shortfall.
---
STOP THE BLAME GAME!
Looting the Pension Funds
---
Cross Trained Collingswood Firefighters Save 2 Overdose Victims
"Earlier this year, the New Jersey State Legislature passed regulations allowing Basic Life Support emergency crews to carry Narcan. On May 20th, 2014, the members of the Collingswood Fire Department completed necessary training to carry this life saving drug. Since completing that training, Collingswood's cross trained Firefighter/EMT's have used their new skills to save two lives.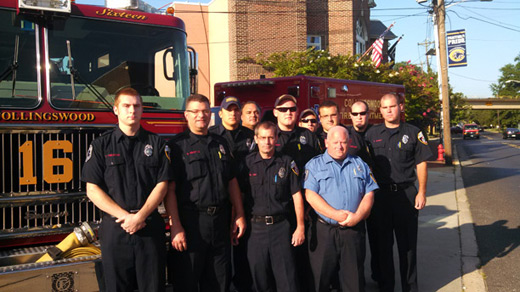 On Saturday, July 19th, the members of Squad 16 and BLS Ambulance 16 (A Platoon) responded to a report of an unconscious person. The patient was found not breathing and exhibiting signs of an opiate overdose. Following protocols, the members administered Narcan and transported the person to the hospital where the patient made a full recovery. On Saturday, August 2nd, members of Squad 16 and BLS Ambulance 16 (C Platoon) responded to a report of a person in respiratory failure. Their patient was also found exhibiting indications of an opiate overdose. Narcan was again administered and the patient transported to the hospital where she made a full recovery."
---
Thursday, July 24, 2014: Gloucester Township members assisted our brothers and sisters from the Gloucester Township Police Department at their annual "Junior Police Academy". Engine 822's members reviewed engine company operations while Tower Ladder 84's members reviewed truck company operations with the cadets.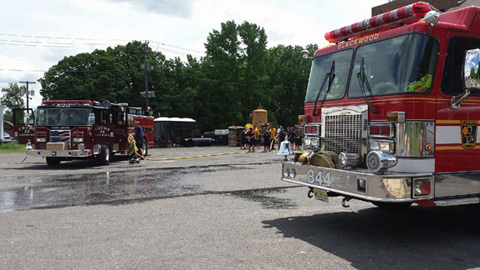 ---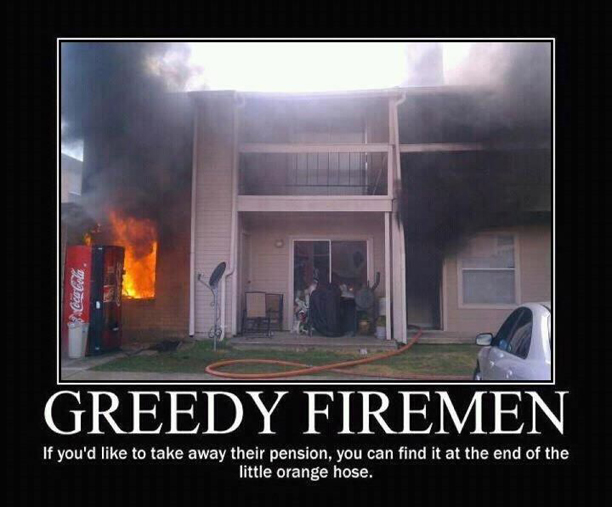 ---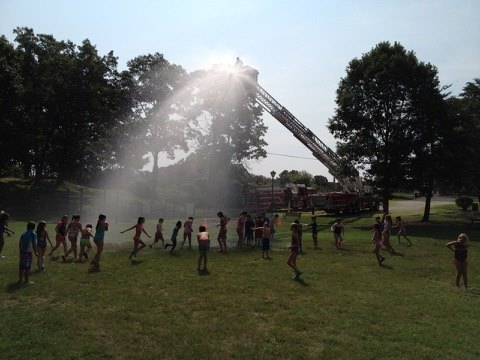 Tuesday, July 22: Gloucester Township Station 86 and Pine Hill Ladder 62 members provided children at the Point Ariel Park Nature Camp with some relief from the summer heat with this wet down.
---
Study Finds Firefighter Cancer Rates have Increased
Running toward burning buildings is a risk firefighters face daily. But the true cost of the job could appear years later, reports USA Today.
Firefighters have higher rates of cancer than the rest of us, according to a recent study by the National Institute of Occupational Safety and Health. Cancers of the respiratory, digestive and urinary systems account for much of the reported cases, the study found.
---
Study: Firefighters Have Higher Rates of Cancer
---
Collingswood Firefighters Bring Holiday Joy to Needy Families
Firefighters from Collingswood set out with Santa to deliver Christmas gifts to families in need as part of the Department's 3rd Annual Toy Drive. On Christmas Eve, Santa was escorted on a decorated American LaFrance engine and gifts were placed under the tree for 25 children.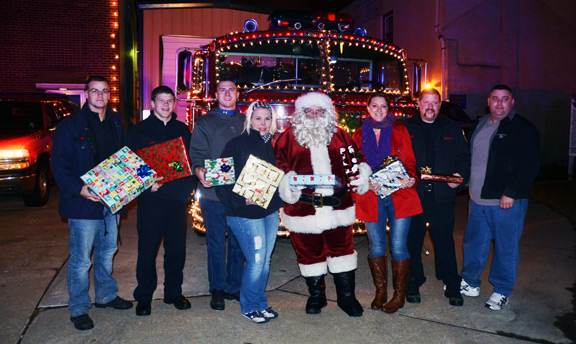 ---
Thank you to Everyone Who Supported Our 2013 Christmas Toy Drive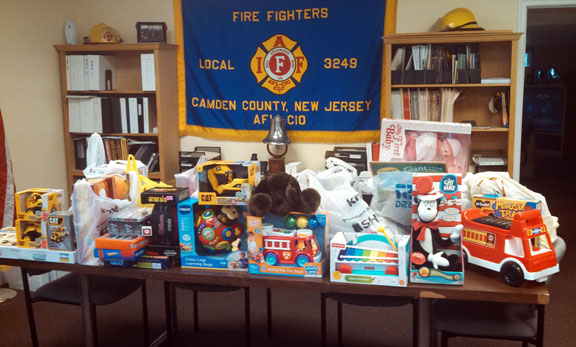 ---
Operation Warm: Firefighters Coats for Kids 2013
---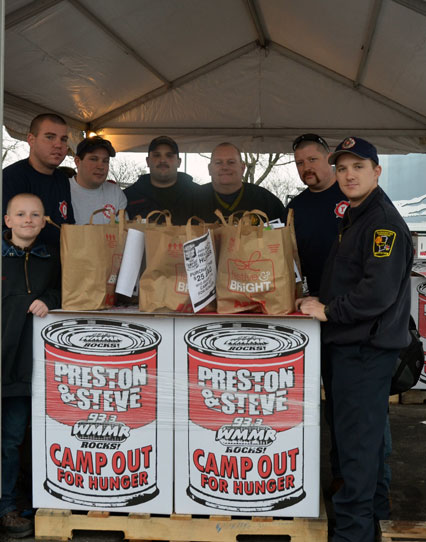 On Thursday, December 5, 2013, Camden County Local 3249 members helped out at radio station 93.3 WMMR's annual Preston and Steve Campout for Hunger, buying food with money from the Local's First Responders' Charities Foundation for people in need.
---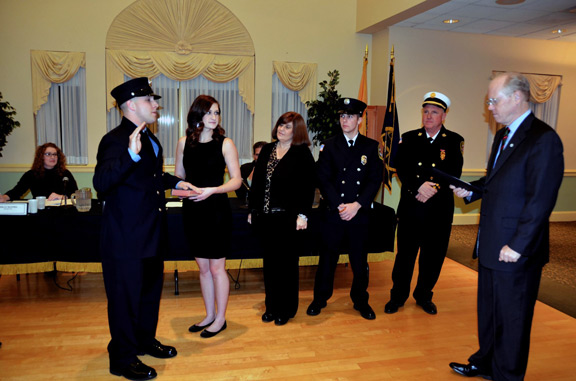 Probationary Firefighter Harold A. Mitten Jr. was administered his Oath of Office during the December 2 Borough of Collingswood Commissioners' meeting. Prior to joining the Collingswood FD, Brother Mitten was a member of Gloucester County, NJ Local 3592 while serving within the Harrison Township Fire District. Welcome Brother Mitten.
---
Thank you to all who supported Local's 3249's 2013 "Brave Enough to Wear Pink" campaign and 2nd Annual "Shaving of the Heads" event at Rizzieri's Salon in Voorhees.
---
Camden County, NJ Local 3249 Welcomes Probationary Firefighters Paul Bonamassa and Kyle Jarozynski who were administered their Oaths of Office during the October 7, 2013 Collingswood Borough Commissioners meeting.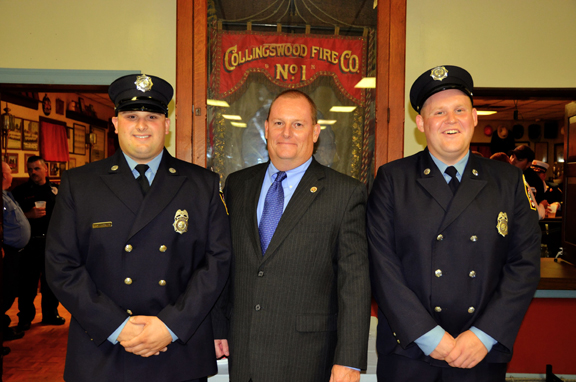 Both hires are the direct result of the Borough of Collingswood being awarded a 2012 SAFER Grant. Photo through the courtesy of Local 3249 Delegate Ted Aurig.
---
Interim Fire Chief Michael Brezee assumed command of Gloucester Township Fire District 6's reorganized combination fire suppression force effective 12:01 AM on Friday, October 4, 2013.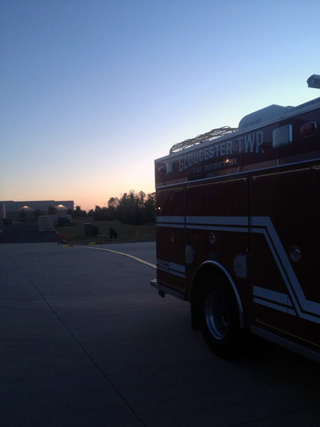 Chief Brezee, representatives of Local 3249 and the Board of Fire Commissioners have met to address initial transitional issues and will continue to do so as necessary.
Local 3249's Executive Board and represented membership wish Chief Brezee and Gloucester Township Fire District 6 success within this new operation.
---
Local 3249's 2013 "Fill the Boot" Campaign raised $6,576.87 for the benefit of the Muscular Dystrophy Association and all people affected by muscle disease.
We are in the process of planning a check presentation and will announce arrangements as soon as they are complete.
Thank you to all who supported our 2013 MDA Campaign
On June 29, 2013 Local 3249 began its 2013 Fill the Boot collection campaign for the Muscular Dystrophy Association and Jerry's Kids today with the Collingswood FD's A Shift holding this year's first collection. A regional campaign is being conducted throughout Camden County. All donations received will be used to help those affected by Muscular Dystrophy. Watch for announcements of future MDA Fill the Boot events.

Thank you Borough of Collingswood Mayor James Maley and Fire Chief Keith Davis for your support of our June 29th event. Special thanks to everyone who donated to Fill the Boot. Daily contributions will be posted as soon as possible. 100% of the donations will go directly to help those from our area who have been affected by Muscular Dystrophy.
Filling The Boot for MDA
On Saturday, July 27, 2013 the Collingswood FD's C Shift Filled the Boot for the Muscular Dystrophy Association @ Haddon & Collings Avenues.
$971.91 was raised in three (3) hours.
One hundred percent of the money raised will be used to support area people and families affected by muscular disease.
Thank you to all who donated.
---
Firefighters Press for Investigation of Blackwood Fire Chief
Gloucester Township Patch - June 6, 2013 - A union of professional firefighters is calling for the chief of a volunteer firefighting company to step down.
International Association of Fire Fighters Local 3249 are requesting an investigation of Blackwood Fire Chief John Vannoni over concerns about a fire department response on May 24, said Keith Kemery, the union president. The local wants the chief to step down during the investigation.
"This isn't the first time we've had problems with Chief Vannoni," Kemery said.
The issue last month involved a dispatching error for a hazardous-material call. The dispatching error was quickly discovered, but Vannoni ordered his crew to stand down, Kemery said. He calls this is just the latest salvo in a long-running dispute with the chief, and says action needs to be taken.
"Local 3249 believes that Chief Vannoni's actions were a deliberate attempt to attack the professional integrity and good names of Local 3249 represented career firefighters," said a letter presented to the Fire District 4 Board of Commissioners Wednesday. "Local 3249 further believes that Chief Vannoni's latest actions represent a continued pattern of behavior that is predisposed to be adversarial and discriminatory toward full-time paid professional firefighters serving throughout Gloucester Township."
Fire District 4 oversees the Blackwood Fire Co. It's one of five fire districts in Gloucester Township and one of two that have paid and volunteer firefighters. Chews Landing also has paid and volunteer firefighters.
The letter also requested the commissioners investigate Vannoni's response on May 24 and an order by Gloucester Township's emergency management director to investigate the incident, Kemery said.
The board took no action on the letter because only two of five members showed up for the scheduled work session and there was no quorum.
Michael Jones, the chairman of the board, said he planned to forward the letter to the board solicitor, David Carlemere, who is also the township solicitor. When asked if he knew what the dispute was about, he paused for several seconds and then declined to comment.
Vannoni also attended the meeting. When asked about the allegations, he said he hadn't seen the complaint. When a reporter handed him the complaint, he took a few minutes to read the one-page letter, pausing to smile on several occasions, and then refused to comment.
---
High-Rise Fire Study Results Support Need for Larger Crew Sizes
April 10, 2013 –Results were released today of a new federal government study conducted by the National Institute of Standards and Technology (NIST) that scientifically documents the effects of crew size in responding to fires in high-rise buildings.
Information and materials are now available online to help affiliates better understand the study and potential ways to use it with local press and decision makers based on their jurisdiction and situation. The toolkit includes sample press releases and sample op-ed that can be modified/customized to submit to local newspapers, radio stations and television stations.

Click here for the affiliate toolkit.

Whether your jurisdiction is contemplating cuts to crew sizes or you need additional evidence to document why crew sizes need to be increased for public safety and fire fighter safety, this groundbreaking study is an invaluable resource for IAFF affiliates to use to educate policy and decision makers about why having too few fire fighters on each apparatus can cost lives and property in high-rise building fires.
Additional information, including a video description of this landmark high-rise fire study is available here.
---
State Health Benefits Program Information (SHBP)
Medical Plan Summaries of Benefits and Coverage - Plan Year 2016
Monthly Rates - For Plan Year 2016
Medical Plan Summaries of Benefits and Coverage - Plan Year 2015
Monthly Rates - For Plan Year 2015
Links to the NJ Division of Pensions and Benefits Health Benefits Handbooks may be found here
In the NJ Direct Handbook those preventative services which are mandated by the National Health Reform to be covered without co-payment are listed on pages 76, 77, and 81.
NJ State Health Benefits Mobile Phone Applications
Aetna, CIGNA, and Horizon have developed applications for the iPhone, smartphones, and other web-enabled mobile devices to provide State Health Benefits Program (SHBP) members with plan information "on the go."
Medco Health Solutions, Inc. has also developed the Medco Pharmacy mobile app for its Prescription Plan, now available at no cost on BlackBerry® and Android™ smartphones using the Verizon Wireless network.
---
CHAPTER 330 RETIREES
Chapter 330 Medical Plan Summaries of Benefits and Coverage - Plan Year 2017
Chapter 330 Monthly Rates - For Plan Year 2017
Chapter 330 Monthly Rates - Plan Year 2016
Retiree Dental Rates - For Plan Year 2017
SPECIAL NOTE FOR CHAPTER 330 RETIREES
Below is a link to the State Health Benefits Website and a printable change form.
Chapter 330 Coverage Change Form
http://www.state.nj.us/treasury/pensions/epbam/exhibits/pdf/hr0809.pdf
Link to State Health Benefits Website
http://www.state.nj.us/treasury/pensions/health-benefits.shtml
---
Sep 11th Victim Compensation Fund Begins Accepting Claims
Claimants May Now Fill Out Eligibility Form on Fund's Website
The Department of Justice announcement the VCF is accepting claims for the First Responder injuries associated with the attacks or with debris removal.
Individuals who wish to visit the VCF's site, learn more about the eligibility criteria, or receive future communications regarding the VCF should visit: www.vcf.gov or call: 1-855-885-1555
---
Congratulations Gloucester Township Fire District 4 Fire Marshal Frank Reiss and Firefighter Pete Urso on the occasion of taking their Oaths of Office on Wednesday, November 16, 2011.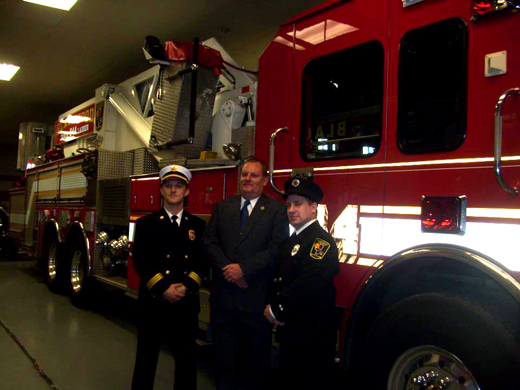 Congratulations Voorhees Fire District Captain James Poland, Captain Cliff Demo and Lieutenant George Devokas on the occasion of taking their Oaths of Office on Thursday, November 17, 2011.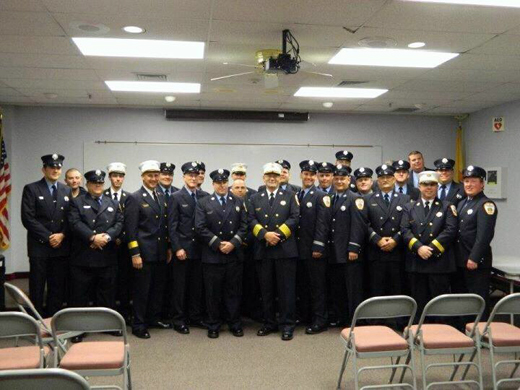 ---
The pension and health benefits bill (S-2937) was signed into law on June 28, 2011.
Click here for a list of pension and health benefits changes (for Firefighters in PFRS)
Click here for Senate Bill S2937
Click here for Assembly Bill A4133
---
N.J. Public Workers Aren't the Enemy - or the Solution - in Budget Battle
Sorry, but there were no "union thugs" on the streets of Trenton last week when the Legislature voted to impose thousands of dollars of new and unexpected costs on a half-million public workers and retirees. And, if the day brought a great political victory by Gov. Chris Christie over big, bad unions, it is likely to come at great cost to just plain people.
---
Put Down the Microphone, Pull Up a Chair and Start Listening to the People of New Jersey
New Jersey Governor Chris Christie has managed to generate quite a bit of national media attention by projecting an image of himself as an aggressive no-nonsense budget hawk.
---
Don't cut public safety!!!

*Cuts to public safety WILL allow more small fires to grow into killer blazes.
*Cuts to public safety WILL allow violent criminals the opportunity to prey upon citizens with too few cops on the street to intervene.
*Cuts to public safety WILL make response times longer when emergency medical services members must arrive in time to save a life.
Help Us To Help You!!!
With the continued help of our families, friends, neighbors and other supporters, we will continue to protect and serve our communities.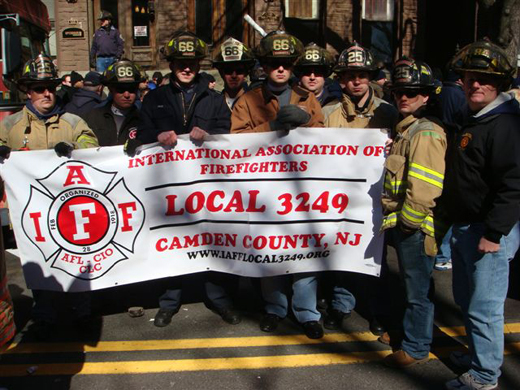 Make Sure We're There When You Need Us!
---
Firefighters and First Responders Support Rally
Protest Attacks Against Public Employees
February 25, 2011: Approximately 2,500 public employees and supporters, including more than 200 firefighters, assembled on the steps of the State House in Trenton to protest continued legislative attacks on public employees. Public employees from the State of Wisconsin also traveled to New Jersey in order to support this Rally.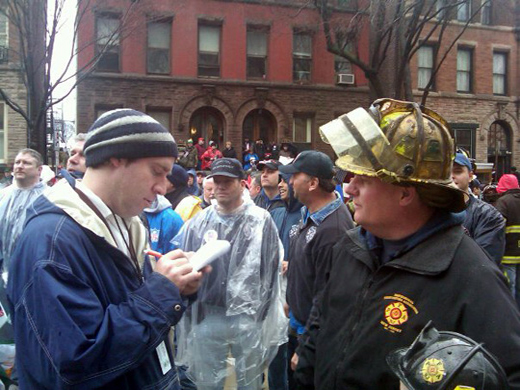 Local 3249 President and recently retired Gloucester Township Fire Captain Keith Kemery reminds a local reporter that firefighters and other first responders are not nameless or faceless. We are taxpayers with families to support just like everyone else. "I resent being called a greedy special interest for expecting the right to earn a living that will support our families while we work to protect and serve the citizens of New Jersey".
---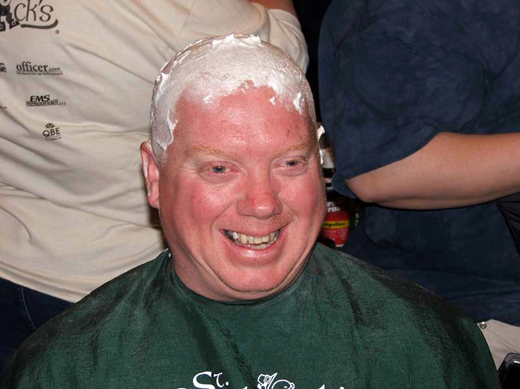 Firefighter Joe Hunter - Pine Hill Fire Department. 11 Years on the Job Married with a son and a daughter. Tax Paying Resident of Berlin, NJ. Getting his head shaved in support of kids with cancer
---
Pop Quiz
Kids are trapped!!!
Do you want to go in there with him?
---
Statement Concerning the Concept of Countywide Shared Fire and Emergency Services
The Camden County Uniformed Firefighters Association, International Association of Fire Fighters Local 3249, can not comment directly concerning an endeavor for which we have no specific information.
We are willing to listen to presented concepts that will help us provide better Fire/EMS service to the people we protect while also insuring that we the people providing the emergency services, continue to be able to safely earn a living to support our families.
Any newly organized Fire/EMS services system must be carefully and properly organized. Its members would have to be properly prepared for any new emergency services work or response area that they would be responsible for. Such an endeavor would take time. FAILURE is not an acceptable option when lives are at stake.
Any newly created regional Fire/EMS services system must be organized for the right reasons. Undertaking such an endeavor for political purposes is a recipe for DISASTER.
For Additional Commentary Contact President Keith Kemery via 609-820-2675
Legislation to Protect EMS Standing Orders Passes Into Law
With unanimous support, the House of Representatives passed the Protecting Patient Access to Emergency Medications Act (H.R. 304). The bill, authored by Representatives Richard Hudson (R-NC) and G.K. Butterfield (D-NC), passed the Senate earlier this year. The IAFF worked closely with the representatives to craft and pass this critical legislation.
FIRST Center Announces 5 Latest Fire and EMS Research Endeavors
Drexel University's Center for Firefighter Injury Research and Safety Trends (FIRST) is a research enterprise dedicated to supporting the U.S. fire and rescue service through the collection of objective data and analysis. FIRST recently announced five important new research projects, including efforts to study stress in EMS aspects of firefighting and how to keep better track of occupational illnesses and injuries.
New Law Permits Moving of Fire District Elections to November
On August 7 Governor Christie signed into law A-1690/S-660, which allows fire district elections to be moved to November; eliminates certain fire district budget referenda, and eliminates certain fire district capital purchase referenda. This new law (P.L. 2017, c. 206) takes effect on January 1, 2019.
The Board of Fire Commissioners will have the option of moving the annual Fire District election, by resolution, from February to the same day as the General Election. Once the Board of Fire Commissioners moves the Fire District election it cannot be changed. However, before the date can be changed the County Board of Elections must certify the election districts.
Study Highlights Link Between Firefighters' Work and High Blood Pressure
The U.S. Fire Administration alerted stakeholders about a recent, NIOSH-funded study about whether working conditions of career firefighters are associated with elevated blood pressure and hypertension. The research study by the University of California, Irvine School of Medicine found there is a link between the job demands of career firefighters and HBP.
High Court Upholds Minimum Staffing Decision For Allentown, PA FirefightersThe Pennsylvania State Supreme Court has ruled in favor of Allentown firefighters, finding that their union can negotiate the minimum number of firefighters on a shift because it has a direct impact on safety.
In a recent unanimous decision that affects municipalities with professional fire departments across Pennsylvania, the court rejected Allentown's argument that shift staffing was an issue for managers to decide because of its impact on city finances.
The court found that the city had not presented convincing evidence that an arbitrator's award setting the minimum number of firefighters per shift at 25 unduly infringed on its managerial responsibilities.
House Bills Seek To Make PA. A Right-To-Work State
Republican lawmakers in Pennsylvania are set to reintroduce a series of seven bills that would make Pennsylvania a "right-to-work" state. The bills are part of the Pennsylvania "Open Workforce Initiative" which seeks to eliminate mandatory dues to unions for state employees. ​
Right-to-work states are increasing in the country, with 28 now. These laws prohibit union security agreements, meaning if an employee does not wish to be part of a union, he or she would not have to pay union dues. The bills are being pitched by advocating for an "end to compulsory unionism," however, by law that is already illegal. Compulsory unionism, or "closed shops" where employees must remain members of a union to retain employment, have been illegal since the 1947 Taft-Hartley Act. However, in non-right-to work states, non-union employees can still have to pay a fee for receiving union coverage.
Domestic Terror Attacks on the Rise in N.J. and U.S., Report Finds
The greatest terrorism threat facing New Jersey is likely already here, according to an annual counter-terrorism report that found domestic attacks across the U.S. were on the rise.
Quarterly Pension Payments Sent to Governor
The New Jersey legislature is taking steps to shore up the state pension system, approving a bill that would require the state to make quarterly, rather than annual pension payments. The bill (S-2810/A-4) passed both the state Senate and Assembly unanimously and has been sent to the governor's desk for approval. Christie vetoed this measure twice before, but the Senate President is optimistic about the bill's prospects. With the bill now on the governor's desk, the AFL-CIO urges him to take swift action and sign it into law. Quarterly payments would be scheduled for Sept. 30, Dec. 31, March 31, and June 30. The law would take effect on July 1, 2017.
The switch to quarterly payments would save the pension system and taxpayers billions of dollars over the long run. By front-loading payments, investments have the chance to grow throughout the year unlike an annual lump sum payment at the end of the fiscal year. Furthermore, quarterly payments lower the potential of reduced year-end contributions.
Kidde Recalls More Than 5 Million Combination Smoke, Carbon Monoxide Alarms
Kidde is recalling 3.6 million smoke alarms in the United States, and another 1.5 mllion in Canada, the company and the U.S. Consumer Product Safety Commission said on Thursday.
The recall involves the Kidde NightHawk talking combo smoke/carbon monoxide alarm with model number KN-COSM-IB and manufacture dates between June 1, 2004 and Dec. 31, 2010.
Christie's Legal Back Flip On Pensions: Editorial
Gov. Chris Christie signed the pension reform law in 2011, calling it a landmark achievement that showed what his brand of bold leadership could accomplish.
Op-Ed: Deeper Debt Waiting for Taxpayers Due to Pension Irresponsibility
After Christie is long gone from the State House, taxpayers will have to pay $3 for every $1 he skipped in pension payments.
The Truth About N.J.'s Pension Crisis And How To Fix It | Opinion
NJ.COM
Next November, New Jerseyans will be asked to vote on a constitutional amendment to require the state government to make regular quarterly pension payments, which would put the state's pension system — and the state of New Jersey itself — on the road to fiscal solvency within six years.
IAFF Continues Boycott Of All Staples Stores
Since July 14, 2014, the IAFF has stopped doing business with, and will continue to boycott, Staples until further notice. The IAFF has joined the American Postal Workers Union (APWU) and the AFL-CIO's boycott of all Staples stores.
N.J. Among Worst Run States In Nation, Study Finds
Although the Garden State has a relatively low poverty rate and the third-highest median income in the nation, it was offset by several negative factors, the study said. Among the items that worked against New Jersey: a downward trending credit rating as well as the 10th-highest unemployment rate and a high debt per capita.
Christie's Pension Overseer Invested New Jersey Money In Fund He Is Linked To Privately
In the context of a New Jersey pension system stocked with $81 billion in assets, here was a transaction that seemed unremarkable. It was 2011, the year after Gov. Chris Christie had installed his longtime friend Robert Grady to oversee the state pension fund's investments. A former executive from the heights of finance and a national Republican Party power broker, Grady was pursuing a new strategy, shifting money into hedge funds and private equity holdings in the name of diversification and higher returns. He was now pushing to entrust up to $1.8 billion of New Jersey pension money to the Blackstone Group, one of the largest players in private equity.
Gov. Christie Shifted Pension Cash to Wall Street, Costing New Jersey Taxpayers $3.8 Billion
Gov. Chris Christie's administration openly acknowledged that more New Jersey taxpayer dollars were going to land in the coffers of major financial institutions. It was 2010, and Christie had just installed a longtime private equity executive, Robert Grady, to manage the state's pension money. Grady promoted a plan to put more of those funds into riskier investments managed by Wall Street firms. Though this would entail higher fees, Grady said the strategy would "maximize returns while appropriately managing risk."
Wall Street Firm Where Chris Christie's Wife Works is Pulling in New Jersey Pension Fees
Under Gov. Chris Christie, New Jersey has funneled hundreds of millions of dollars to Wall Street firms as management fees on the state's pension funds. Just a few hundred thousand dollars of that has gone to a firm called Angelo Gordon over the past couple years, but David Sirota makes the case that it's worth a closer look nonetheless. Why? Well, Angelo Gordon hired Mary Pat Christie—the governor's wife—in 2012, paying her $475,000 a year.
Opinion: Christie Broke Promises To Police, Firefighters, N.J. Voters
By Bill Romaka and Ed Brannigan
If a man is only as good as his word, and New Jersey Gov. Chris Christie breaks his word to first responders, what does that say about the character of a man who is trying to position himself as the next U.S. president?
U.S. Attorney General Unveils PSOB Changes
More changes are on the horizon for PSOB -- one to include fire police officers and another to streamline the filing process.
World Trade Center Health Program Enrollment for Pentagon, Shanksville Responders
Beginning May 1, 2013, fire fighters who responded to the September 11, 2001, terrorist attacks at the Pentagon and Shanksville, Pennsylvania, crash sites will be eligible to enroll in the World Trade Center Health Program (WTCHP).
Cockeyed Comparisons Inflate Health Insurance Legislation
The effort of New Jersey's political leaders to seek parity in public employee contributions to health insurance costs is based on an incorrect comparison.
Christie Campaign Letter Promised 'No Harm' to Police, Firefighter Pensions
Trenton's Un-Truth about Police and Fire Pensions
The State's pension actuary has exposed this simple truth: the State's own mismanagement is responsible for the unfunded liability in the pension fund for fire fighters and police.
Status of Governor Christie's Proposed Tool Kit Reforms
Prepared by Peter Guzzo: PFANJ Government Affairs Agent
Governors are Singing the Wrong Tune
An increasing number of governors are joining New Jersey Governor Chris Christie's antiworker chorus. Too bad they're all off key.
Update on S2220
We have been advised that the Senate Democrat's will not adopt the changes called for in Governor Christie's CV of S-2220 that would limit payouts to local and school district employees for accrued sick and vacation days.
What this means, at this point in time, is that if the changes are not adopted, the current existing law regarding accrued sick leave and vacation days will remain unchanged. So however you are currently being compensated under your existing contract remains in effect.

If anything changes with the legislature, we will notify our members via email and our website.
The Unspoken Truth About Pensions
The efforts to shift blame to public employee unions for any projected shortfalls in the pension system are the equivalent to calling in a fire alarm on a house that you set ablaze.
The Truth About Arbitration
Many politicians, local and state, want everyone to believe that binding arbitration is the reason local property taxes are high, when this simply is not true.
---
Video: Smoke Showing
Fire Engineering.com - "Smoke Showing" is a short film that visually demonstrates the dangers and challenges faced by firefighters during a structural fire. This film will serve to educate recruit firefighters, elected officials and the public in fire operations. "Smoke Showing" demonstrates the need for an aggressive interior attack coupled with adequate resources in order to save lives and reduce property loss. The film is opened by the cast of "Rescue Me." It is dedicated to the proud service of Tom F. Brennan.
CLICK HERE to download the video.